Get Out of Your Comfort Zone

Externalization in Architecture to Increase Social and Environmental Connectivity

Christina Brown | Bachelor of Architecture 2020, Master of Science in Sustainable Design 2020
This work was presented at the Asian Conference on Sustainability, Energy, and the Environment (ACSEE 2020)

and will be presented at the

National Council of Science and the Environment Drawdown Conference 2021 - Research to Action: Science and Solutions for a Planet Under Pressure

and at the

International IAFOR Conference on Sustainability, Energy, and the Environment (IICSEE Hawaii2021)

a

s a recipient of an IAFOR Scholarship

.

Advisors:
[B.Arch 2019-2020] Marantha Dawkins (CMU), Herbert Dreiseitl (Dreiseitl Consulting), Vivian Loftness (CMU)
[MSSD 2020] Erica Cochran (CMU), Dana Cupkova (CMU), Vivian Loftness (CMU), Azadeh Omidfar Sawyer (CMU)



Master of Science in Sustainable Design Synthesis Abstract:

As global warming accelerates, buildings currently account for 39% of energy-related carbon dioxide emissions annually. Despite this fact, architecture is increasingly designed to be fully boxed in and internalized, requiring increased conditioning, which in turn further contributes to the greenhouse gas emissions warming up our planet. Technology has evolved where we can now disassociate ourselves from the natural environment and isolate our spaces completely. This has also created spaces where people begin to disassociate from their community, and live within boxes both physically and socially. Though current research addresses many environmental and human health concerns that arise from internalized architecture, it does not address the social disconnection nor is there any specific terminology and research that focus on externalizing programming as a strategy. To fill this gap, this synthesis establishes important terminology and research to support 'externalization', and explores the environmental and social impacts of externalizing programs through both design evaluation and morphology.

This synthesis first establish key terminology, literature review, case studies and research to highlight the importance and impacts of externalization both in terms of social and environmental connectivity. Then an externalization taxonomy is introduced to support designers in two ways – first as a design evaluation tool that can aid in evaluating architectural design through its environmental and social connectivity, and second as a design support for building morphology and evaluation that would better demonstrate how externalization can create integrated designs that provide layers of environmental, social, and health benefits while reducing the total building energy demands. This morphology process will be conducted on the Environmental Charter School in Garfield, with varying levels of externalization, to demonstrate the impact of externalization on architectural design while also showcasing how externalization could be integrated into architectural design practice. Lastly this synthesis will discuss the potential role of externalization in terms of the pandemic (COVID-19) and social inequity within architecture.

This synthesis will provide foundational research and frameworks in regards to building program externalization, and provide preliminary research and example of how to evaluate architecture based on externalization criteria and how to integrate it into architectural design. The synthesis provides the necessary groundwork to allow for externalization to be researched further, and provide architects and designers with convincing arguments to adopt this approach into their own design work.
---
Undergraduate Thesis Work Below:
Despite the acceleration of climate change, architecture is increasingly designed as hermetically sealed boxes, requiring increased mechanical conditioning, which in turn further contributes to the greenhouse gas emissions warming up our planet.

The idea of "universal climate" or "la respiration exact" created by Le Corbusier was an idea that resonated with generations of modernists. At that time the application was challenging due to technological challenges, but as technology and science continue to develop, we have now successfully achieved our goal of hermetically sealed buildings due to the innovation in the air conditioning industry and the development of the psychometric chart (Willis Carrier) (amongst other advancements). However with this new found ability to produce artificial environments, we have also successfully disassociated ourselves from the natural environment by relying solely on mechanical conditioning even when we are equally able to open a window or a door. We now treat space as a simple box, internalizing all our design efforts inside the conditioned box, rather than considering what spaces could be outside or externalized to outdoor environments.

In addition to disassociating people from the natural environment, this conventional approach also creates spaces where people disconnect themselves from their communities. The social vibrancy of a community isn't embedded into the architectural design, so a corridor is simply for walking (rather than meeting neighbors and chatting), a lobby is purely to enter the building (rather than serving as a community gathering space for all its tenants), and the rooftop is just for mechanical systems (rather than acting as an urban farming space for its community). The vibrancy of hearing children playing, people chatting, and the birds chirping is all taken away as we build glass walls around ourselves on all sides. We have internalized ourselves away from our local communities, resulting in vacant and disconnected neighborhoods.



Photos taken by: Vivian Loftness (far left), unknown (center left), Alexey Ds (center right), Liam Frederick (far right)
"Why aren't we embracing connections to nature and community?"



I began to question why this was our status quo, and what was the reasoning behind why we designed in such a manner after studying abroad in Singapore. Throughout my study abroad experience (as shown below), I was able to experience externalized architectural spaces in various countries and climates that all demonstrated a richer environmental connectivity and social vibrancy that wasn't present in how we currently designed architecture. This made me begin to inquire into the idea of "externalization".

Photos taken by me
"What does 'externalization' really mean? How would 'externalization' be evaluated?"



First set of criteria is the environmental connectivity of building programming - based on how the space is sealed, how much daylight is available, and what kind of activity takes place in these spaces.


Why is environmental connectivity important?


This could result in a significant amount of energy savings due to the decrease in conditioned internalized space. Additionally, this allow for an increase in physical activity and circulation, which can increase the overall social connection.

Through environmental externalization, there is added visual richness and connectivity, and well as auditory and sensory richness. This allows for the community to gain a sense of vibrancy through architectural design.




Second set of criteria is the social connectivity of building programming - ranging from individual and disconnected to urban community connectivity.

Why is social connectivity important?

The increased social connections allow for the success, resiliency, and longevity of the externalization strategies through increased social connections, an increase in the amount of outdoor activities, and allow for increased socio-cultural richness. Additionally this encourages people to communicate and develop a level of tolerance through a sense of community, which can increase the community resiliency in times of crises such as the current COVID-19 pandemic.

Externalization Palette

The full externalization palette when both the environmental connectivity and social connectivity are overlapped to create a larger palette that can then evaluate architectural design through this color schema.

In doing so, it allows for immediate understanding of a design's externalization quality in regards to its social and environmental considerations and creates a set of vocabulary for building program externalization that can then evaluate architectural design through the criterias of environmental and social connectivity.


So how do these ideas translate into existing architectural design?
Shown below are 2 case study examples ( more detailed research forthcoming in publication ) that demonstrate the vocabulary ideas of the externalization palette, and highlight some notable differences for 2 healthcare typology and mixed use typology examples.


Photos taken by: Frank Oudeman (NY Presbyterian), Khoo Teck Puat Hospital (Khoo Teck Puat), Tom Harris (40th Tenth Ave), K. Kopter, Vivian Loftness, Patrick Bingham-Hall(Kampung Admiralty)


Additionally, preliminary analysis were conducted to find possible correlations and patterns through a coding exercise. Eight case studies and 2 conventional examples were analyzed based on the environmental connectivity from the externalization palette (social connectivity forthcoming) and notable patterns and findings could be derived from the process.



Based on the externalization ratio breakdown and the key findings derived from this research, it is evident that there are distinct differences between the conventional approach to architectural design and externalized approach. We should shift our way of designing architecture from the conventional to the externalized (as shown below) to design in social and environmental resiliency and connectivity.


Additionally, there are building programs that had more opportunities for externalization based on the case study research.
" By understanding both the vocabulary and the types of building programs to externalize, how can externalized architectural forms enable human-nature connectivity, and what is the vocabulary for such architectural design? "

From the case study research analysis, an externalization taxonomy was created.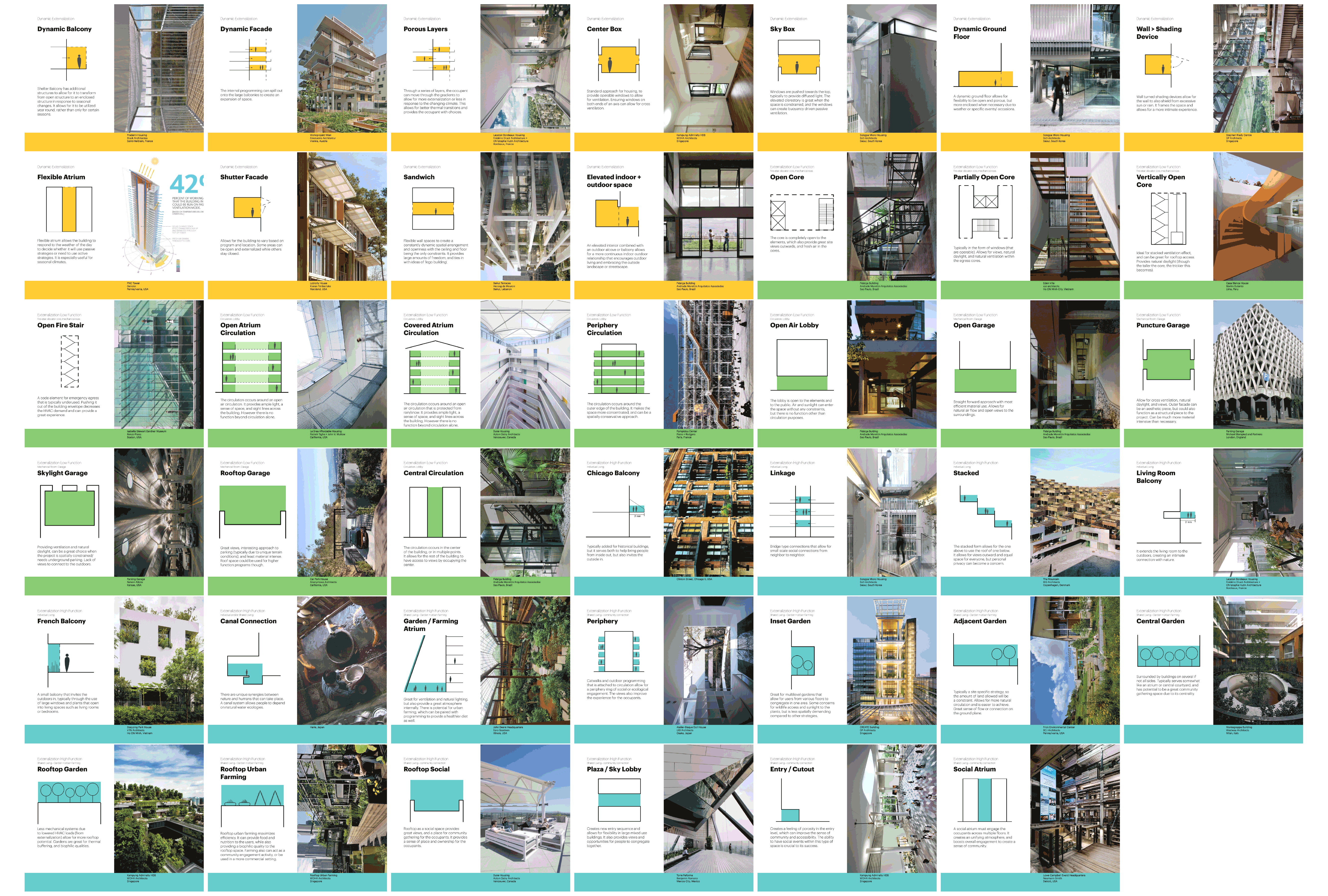 The taxonomy distinguish specific architectural design elements that externalize various building programming with varying environmental and social impacts. This begins to create a series of design strategies that can then be implemented into architectural design to allow for imbedded externalization. The strategies attribute to various parts of the externalization palette, allowing for a diverse set of strategies that can provide varying amounts of environmental and social connectivity based on the program and context of a project. Some examples are provided below.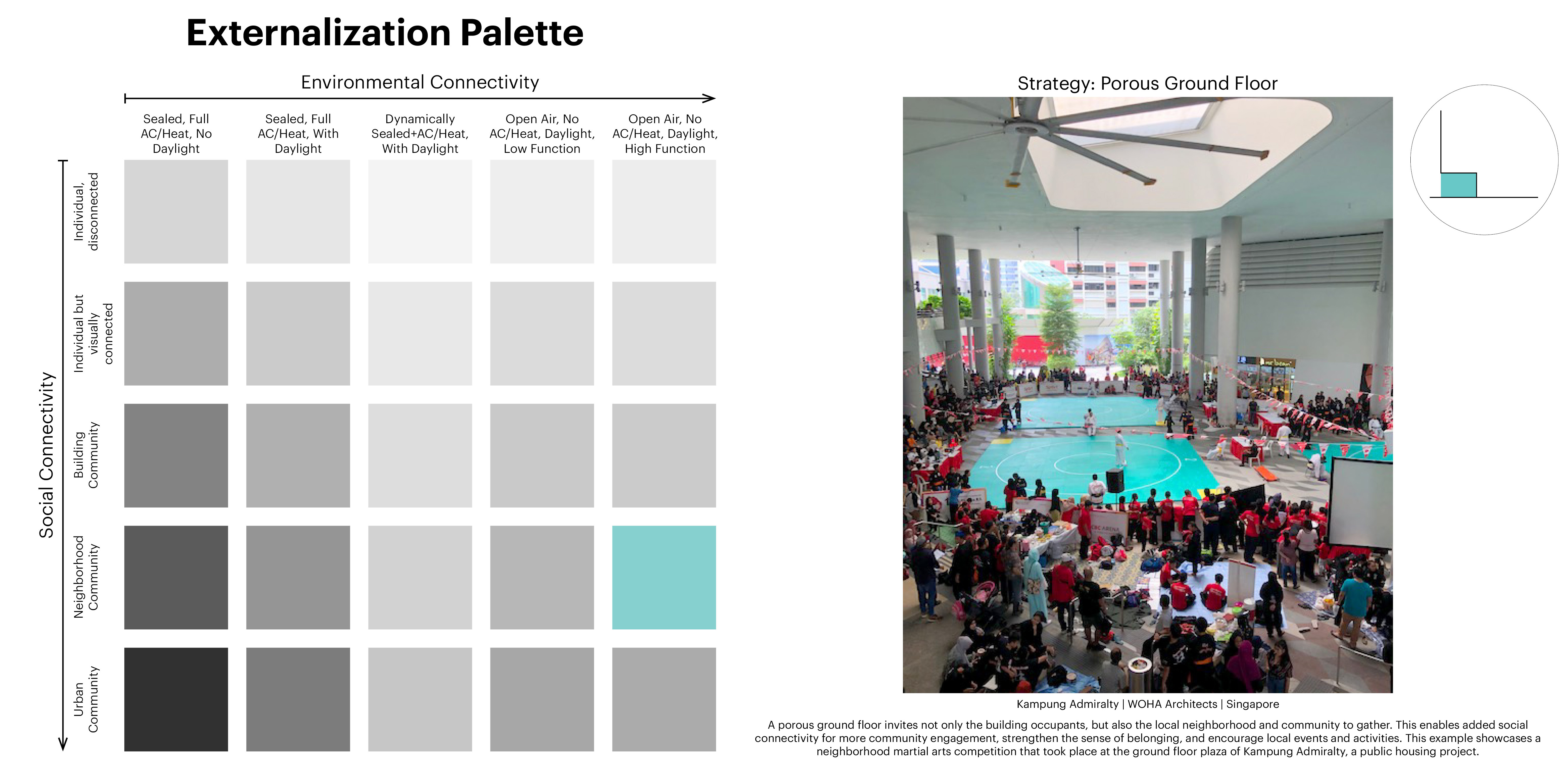 To better understand the difference these strategies can make, a series of comparisons are shown below, highlighting specific strategies that were implemented in practice and how they compare to their conventional counterparts.



Photos taken by: Philippe Ruault (Lacaton), 2020 Beaux Arts (SkyVue), Peter Aaron/OTTO(Loblolly)
Photos taken by: Bruce Coleman (Porter), Hiroyuki Oki (Stacking Green), Yercekim Architectural Photography (Intertech), KLOOK (Pompidou)
Photos taken by: Yercekim Architectural Photography (Intertech), SsD (Songpa), Mitar Mitrovic (New Belgrade), Frank Ockert (IBN)
How can these strategies be applied to and
improve architectural design

?
And what are the
environmental and social impacts

that can be achieved

through the inclusion of externalized building programming

within architectural design?
How can we shift architectural design from the conventional into the externalized?

To answer these questions, the externalization strategies are implemented within a building site (5600 Penn Plaza, Pittsburgh PA) to explore its impacts on architectural design. The resulting design is then compared to the original site massing proposal and other conventional building designs to better understand the impacts these strategies can have on the architectural design process.
Though the work is preliminary, it serves as a proof of concept for the importance and value of building program externalization within the architectural field.
Note: The externalized design
does not
intend to serve as a proposal for 5600 Penn Plaza, but utilizes the site and context to better demonstrate how different externalization strategies could be used to respond to complex site conditions such as the Penn Plaza project, and enhance the overall experience and quality of the project.
Conventional Example Floor Plans
---
Hypothetical floorplan based on another conventional project (842-848 Chapel Street, New Haven CT)
Externalized Floor Plans
---
5600 Penn Plaza, Pittsburgh PA


The design approach difference can be easily understood through these color-coded plans, which follow the externalization palette. Both the ground floor plan and the typical floor plan reflect a difference in externalization and social connectivity. Where the externalized floor plan provides community programming and space to interact, the conventional floor plan only provides a tight corridor and small lobby spaces for any kind of social interaction.




Lastly when all these strategies are integrated into a singular design, it allows for the improvement of the building's social and environmental resiliency. The project becomes much more liveable and vibrant, but also enable its occupants to connect with nature and each other. This social and environmental cohension can allow for us to drastically shift how we design and think about architecture beyond a hermetically sealed box, and lead us towards a new way of thinking that is more adaptive and resilient while reducing our overal carbon footprint. Through building program externalization, we can design architecture in a way that shifts our experiences away from those conventional norms into a new paradigm that can connect us to the environment, the neighborhood, and to each other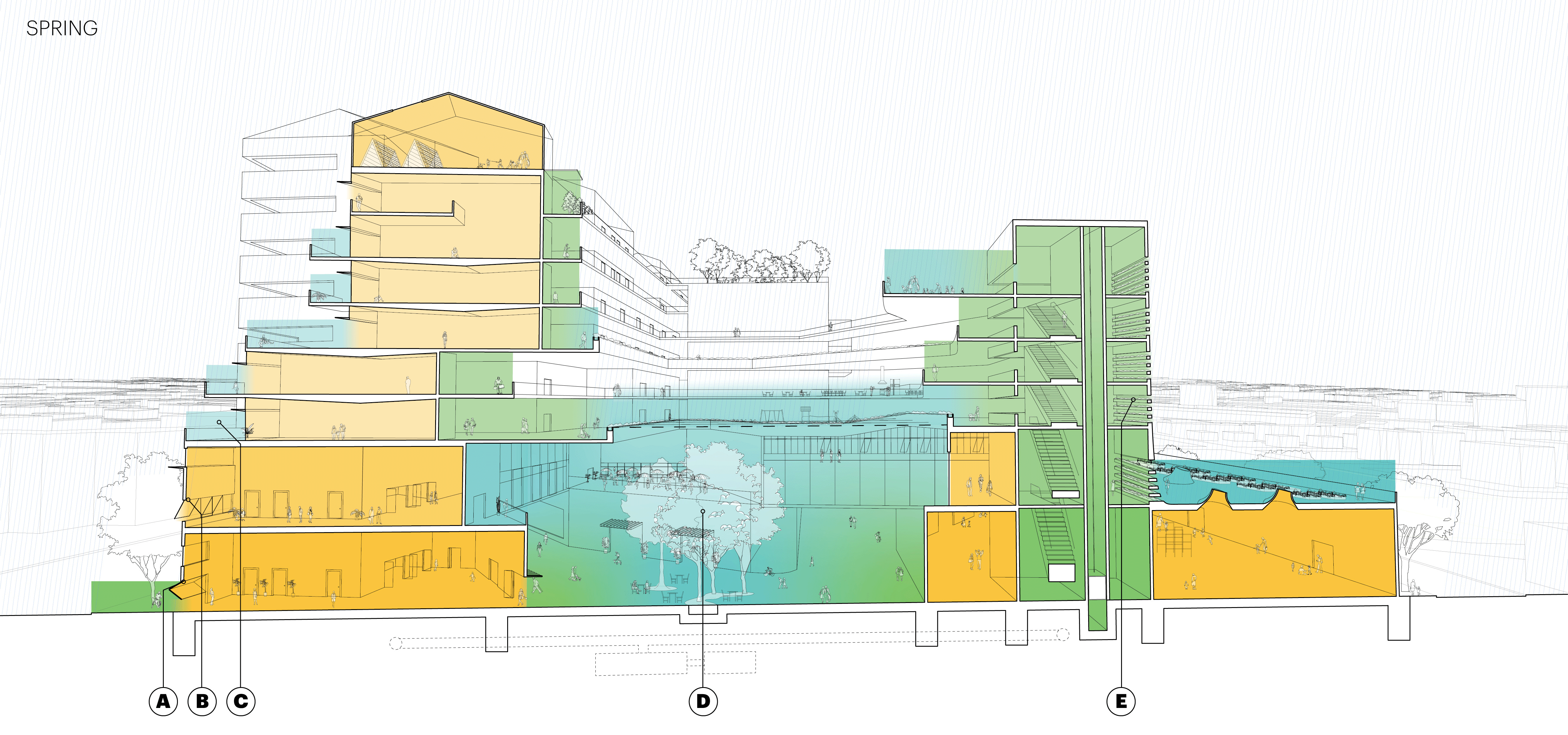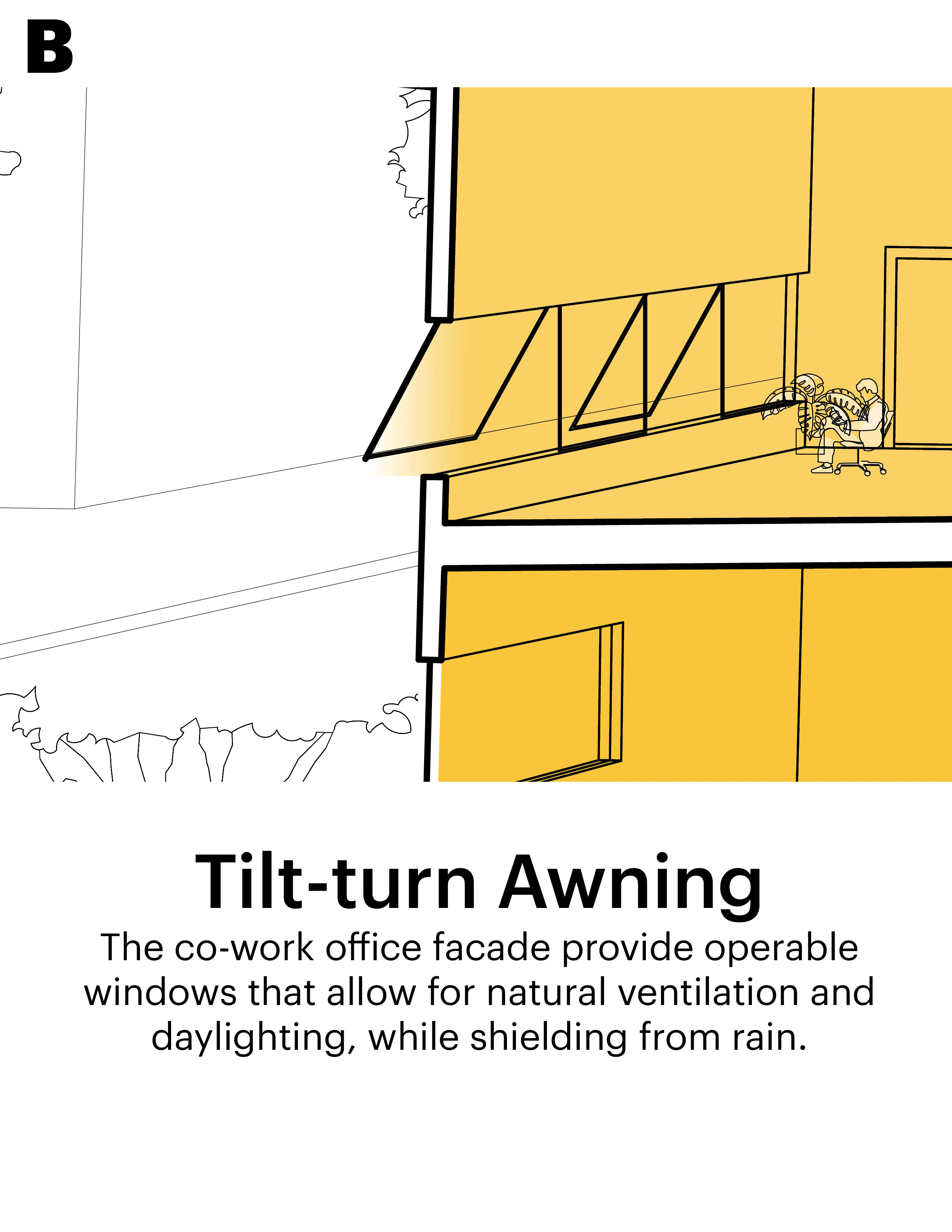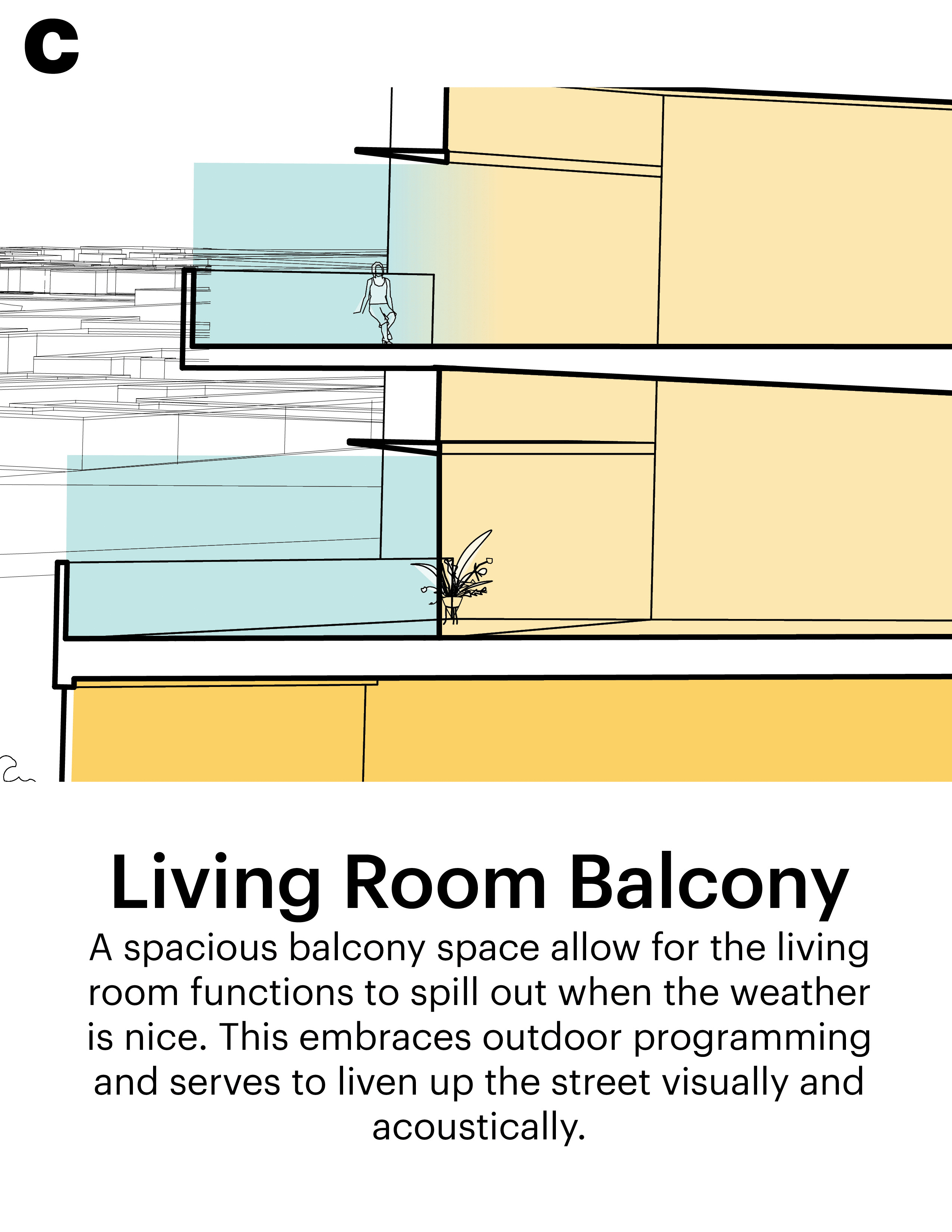 ---
---
This is a work in progress, the work shown above are only highlights from the undergraduate yearlong thesis.