Weatherization Kit Project

2018-present | Freedom by Design CMU Chapter
Project Contributions: Design Collaborator + Photographer + Public Relations Co-Chair
Project Advisors: John Folan, Stephen Lee


In Pittsburgh 66% of working families have to decide between paying their rent, or paying their heating bill during the winter.
In most cases, these families live in older homes that haven't been well maintained, and consequently have very poor insulation and a lot of air leakage.
To address this problem, our Freedom by Design Chapter has designed, prototyped, and assembled Weatherization Kits.
Each kit provides materials for weatherizing the home
(such as door sweeps or window plastics). We then
host a distribution event yearly that allows us to engage with the local communities and teach them how to use the materials provided
. An instructional booklet is also included in the kit itself for later reference.
Project awarded the NOMA NAACP SEED Award in 2020, Founder's Choice FBD Top 15 in 2019
, and have been featured in
AIAS Grassroots Conference
as well.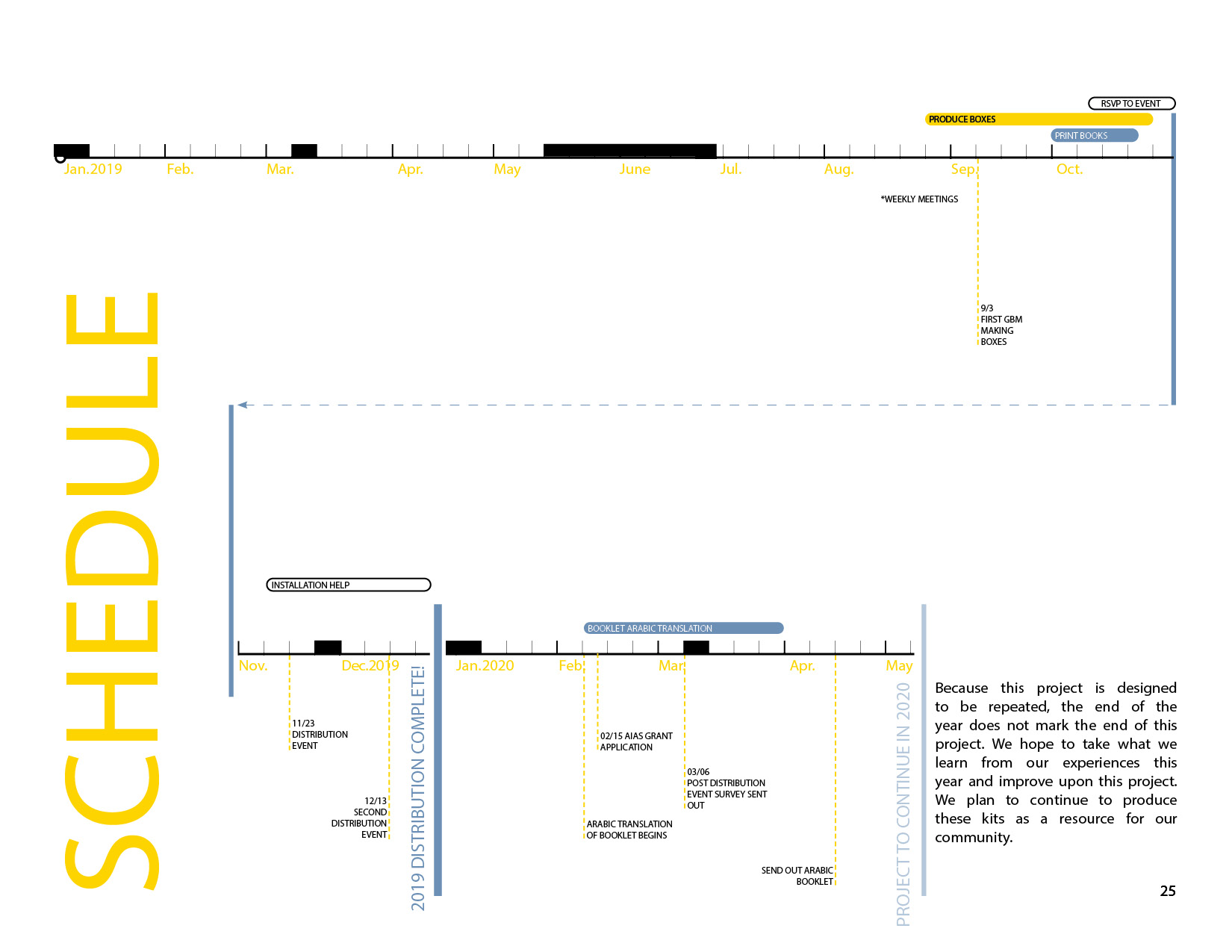 The project takes place annually in the fall semester, allowing for new Freedom by Design members to join and participate in the project. This also serves to provide new weatherization kits before the colder months of Pittsburgh arrive (usually December-March).

Being the first project of the Carnegie Mellon University Chapter, we aimed to develop a on-going project that could evolve and adapt with climate change while also serving to aid the local community. We were considerate of the work load and promises that we make to the local community so that we could foster healthy long-term relationships with the many NGOs and communities groups within Pittsburgh.

Over the past 3 years, we have aided the Larimer, East Liberty, and Homewood communities as well as worked together with the Build A Bridge (BAB) foundation to serve Arabic immigrant communities in Pittsburgh. As the reach and type of collaboration continue to evolve, we seek to make our kits even more accessible through language translations and online resources to provide potential for expansion of this project.
Making, Designing, Collaborating, Teaching, Sharing, and Serving.
This is the intent of CMU Freedom by Design Chapter, and the values of the Weatherization Kit Project.
More information regarding the chapter and this project can be
found here
.